Overlay Night
28 Apr 14
Tonight we knocked out some overlay projects.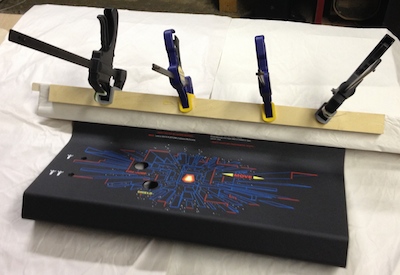 Major Havoc was first. The control panel is new and nicely powder coated. The overlay fit well. The overlay wraps tightly around the top of the panel. I clamped it overnight to ensure a nice, bubble-free bond. Next step is to cut out the roller area. This was not cut by the printer.
Next was a Multi-Wiliams. No wraparound on this one, straight forward and clean. This one had lots of buttons to help align the overlay nicely.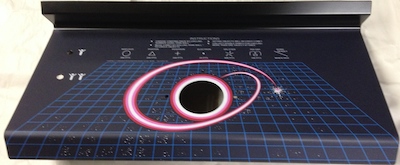 Then there was a Quantum. This was a little odd because sit does not wrap around. It stops before the top of the panel. It looks nice. There is no more art to show, so stopping is fine, just odd.
Last stop was the Multi Asteroids. We have two of these to do. I can't. I just don't know where to align them. Nothing is die cut. I have not reference points. I tried to align to the Player Start button and that comes up short on the bottom and long on the top. I need to consult someone on this before proceeding.